My AFI Despair Faction Blackheart tattoo - inked on October 10, 2003
by Susan Behney at Jinx Proof Tattoos in Georgetown/Washington DC
And here it is as shown in the March 2005 issue of TATTOO magazine!
Another AFI design inked by Susan (January 4, 2004!)
the cover of the "Girls Not Grey" 7" on my upper right chest
My Tiger Army inspired tattoos:
by Susan Behney at Jinx Proof Tattoos in Georgetown/Washington DC '
Half sleeve on my left arm, based on the "Werecat Rising"
T shirt by Tiger Army (shown here):
Photo taken just as it was finished (August 22, 2004) and it was
bleeding a bit in these pix) Also done by Susan who came up with
the original design using the werecat & ghostly mist from the shirt.


Shown all healed up here:
And here it is as shown in the March 2005 issue of TATTOO magazine!
And below it is more in the Tiger Army theme - the "tigerbat" logo
surrounded by an armband of 13 thorny black roses (this is what happens when
I listen to "Last Night" and "Rose of the Devil's Garden" too many times)

Tattoo on my chest based on the Michael Kaluta Yin/Yang design
for Danzig4, ink by "Sheikh" (Mike Tisdale) 1994
tattoo on my right arm of the werewolf Argent from Matt Wagner's
GRENDEL comic (inked by John Rainey) 1992


Argent was my first tattoo many years ago but after I got the werecat
sleeve done my right arm felt naked so I wanted to turn it into a half sleeve.
I tried to commision Grendel creator Matt Wagner to designit for me but
unfortunately he won't take commissions, but I was lucky enough to find an
incredibly talented comic artist who would and listened closely to my ideas
& came up with an amazing design - so many many thanks to Kyle Hotz!!

We started on this in September 2005 - here are some pix in progress (sorry
that Grendel's fork looks curved in the photos due to the curvature of the skin &
lens, it looks straight in the mirrorto me!)
The roses at the bottom are Susan's design - they will continue down & work
into another armband planned below the elbow. They fit in with so many of my tats
having roses and the fact that Grendel's name is "Hunter Rose".
After 2nd session of color, almost there!: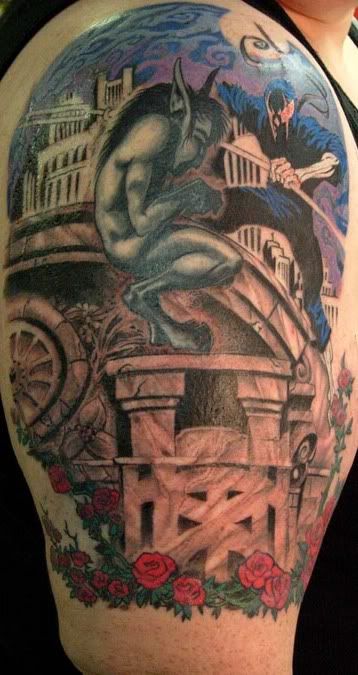 Finished!: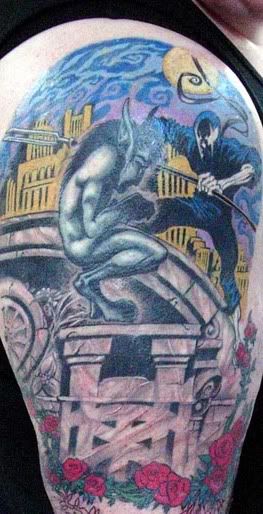 Then we did more underneath Grendel, a design using the Danzig skull surrounded
with roses - it echos the Tigerbat & roses piece on my left arm & also the roses tie
i n with Grendel (who's real name is "Hunter Rose" and the stylized red roses are a
common motif in the Grendel comics) Shown in progress here: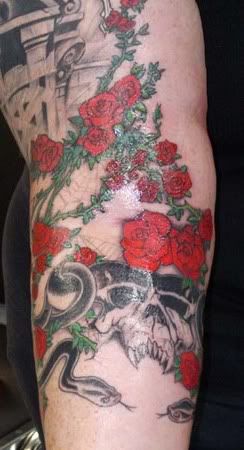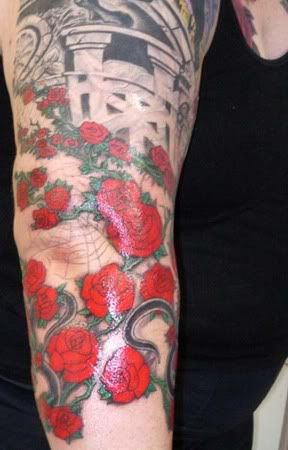 left and right forearms together - I'll probably ask Susan to design something
to bring the two pieces on the left together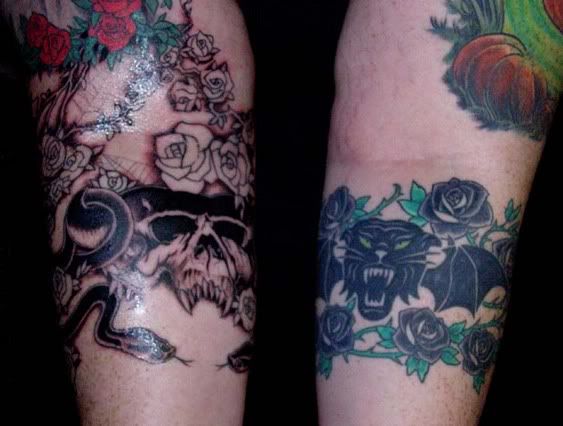 Finally (Jan 2006) - Right arm ALMOST done - Susan is still going to do some
shading in the roses as soon as the red is totally healed
The Danzig skull finished:

One of my newest done April 2006 running up my right calf:
"Rose of the Devil's Garden" from a Tiger Army T shirt design by Linas Garsys,
again ink work by Susan Behney!
And my latest completed October 1, 2006 (also by Susan Behney)
this time on my left calf & based on a drawing by the late lamented
comic artist Martin Emond (original shown here) -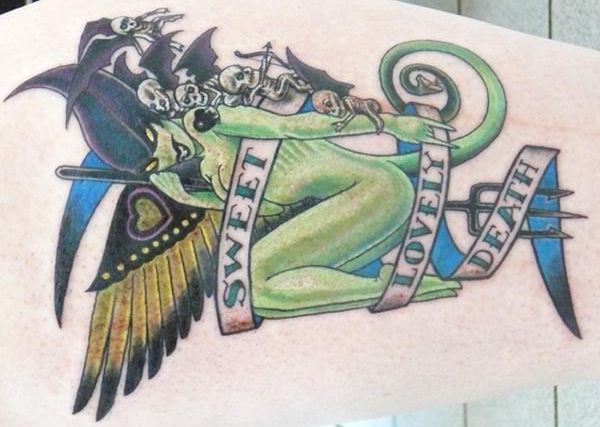 (Note on web graphics - this page uses the "Barocopal" set from the much missed "Moyra's Web Jewels" site)